ENGLISH VERSION
The Students' home Salvator  is located on the border of the centre of Hasselt.
It's a very peaceful and green area, only a few minutes from the centre.  You can use the bus to get there. You can also rent a bike at school.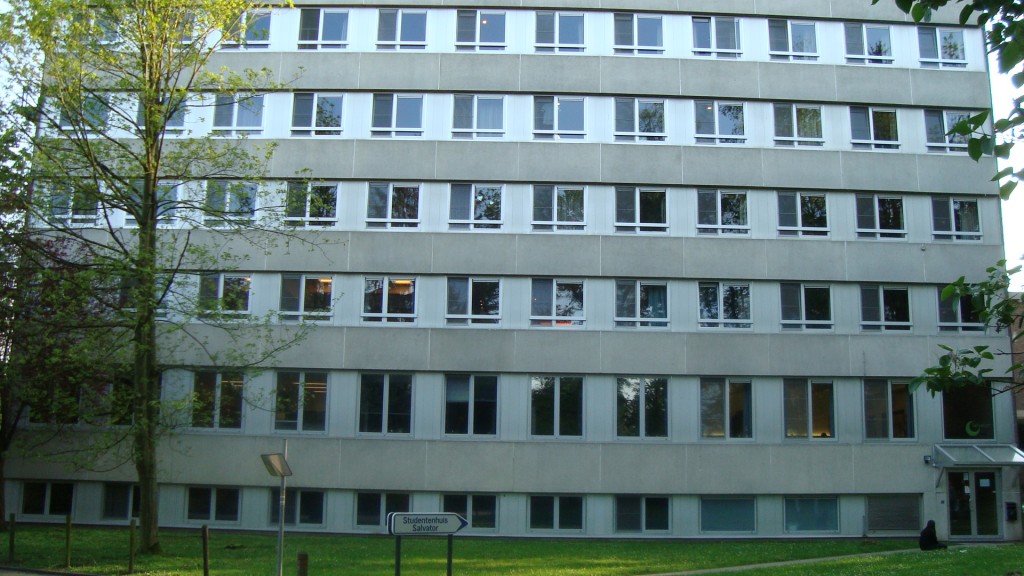 There are about 80 rooms available for students.   Each room contains a bed, a desk and chair, a wardrobe and a washbasin with cold water.  There is also the opportunity to use the internet (cable and wifi).
Showers and toilets are located on each hallway.
Sheets, blanket, pillow and towels need to be brought by the student. Students can also use a comfortable kitchen, all included, and a cosy room to relax, watch T.V. and so on. Normally, the room is rented for 10 months : from September till June.
But we make an exception for foreign students who participate in f.e. an Erasmusproject.  They can rent the room for as long as they are studying in Hasselt.Mostly, there is someone available in case you might have a problem. During the day you'll find principals Mrs. Jo Kums and Marjan Schorpion. They run the studenthouse and can be reached by phone +3211/246 246, or e-mail jokums@salvasthasselt.be marjanschorpion@salvasthasselt.be
In the evening Mia, Henriette, Gaby and Kristof are present.
A  few things to keep in mind:
You can not smoke in the building.  Drugs are not allowed in the student home.
Visitors are welcome till 10 o'clock in the evening.  You can not have friends sleeping over.
Don't disturb your fellow students.  Be quiet in the room and hallway.  The place to relax is on the first floor.
As a security, a deposit of €175 is to be paid for the room,  €20 for the roomkey (chip)is included.  The rent is €78/week (<4 weeks), €72/week (4- 8 weeks), €67/week (>8 weeks) and has to be paid in cash at the beginning of every week.
rental agreements:
FAQ
Is there public transport?
In walking distance from our Studentenhuis there is a busstop: "Hasselt Jessa ziekenhuis Campus Salvator" The busnumbers/lines are 3, H16, H17, H61 and H71.

The endstation of these lines is the trainstation in Hasselt Centre.

There is also a shuttlebus between Campus Salvator and Campus Jessa. Campus Jessa is in the center of the City Hasselt. You can consult the schedule in following PDF files.
How can I travel to The Studentenhuis Salvator from the Airport Zaventem?
In following link you can plan your journey from the airport to the Studentenhuis by train.
Url: http://www.belgianrail.be/en/stations-and-train/search-a-station.aspx?from=Zaventem%20Luchthaven%20Perron%20A%20[De%20Lijn]&Radius=25000&coord=50.898038;4.482058
If you leave by train, you have to buy a ticket to enter the airport Zaventem.
What is the distance between the Studentenhuis and the schools by bike?
Ucll Campus Hasselt is 2.1 kilometers.

Ucll Campus Diepenbeek is 6.7.

UHasselt Campus Hasselt is 4.0 kilometers.

UHasselt Campus Diepenbeek is 6.0 kilometers.

The centre of the city is only 3 kilometers.
You can rent a bike at the school campus from UCLL, PXL and Uhasselt. It will cost you 25€ for the whole year and they ask a deposit from 70€. Online reservations can be done on https://www.uhasselt.be/citybike.
What is included in the rental price?
In the rentals price is included:
– Rent for the room.
– Use of electricity, wifi, water, kitchen.
– Heating
– Use of toilet and shower in communal rooms (there ar no toilets and showers in the rooms itselfs.)
We are open during weekdays from 9 in the morning till 10 in the evening.
In weekends and school holidays we are closed. (school holidays include July and August.)
We ask you to tell us in advance on what day and time you will arrive. This to make sure we are open and can welcome you personaly.
Be aware: The dorm is closed from Friday the 3th July 3pm till Sunday the 23th August